Delivery Information
****** Coronavirus Update Friday 27th March ******
To give our staff a much needed rest after working tirelessly with a massively increased work load over the last two weeks we have taken the decision to close our shop and warehouse over the weekend. We will try our very best to process and dispatch orders placed Friday - Sunday on the Monday but please have understanding if it gets to Tuesday when your order leaves us for delivery on Wednesday.
We appreciate and thank you for your understanding - maintaining our teams health means we can keep supplying you.
********************************************************************************
Due to an extremely large increase in orders our cut off times for next working day delivery will be earlier and vary on a daily basis - please see the home page for that days current cut off time. DPD are aiming to deliver all parcels as normal however if your shipment if running slightly later than expected please bear with them - like ourselves they are experiencing larger than normal shipment numbers.
DPD will keep you updated via text message or email or download the DPD app for live tracking. Saturday delivery has been suspended at this current time.
DPD are still bringing shipments to your door however the drivers are signing the hand held device themselves on your behalf to minimise contact.
EU Shipping - at this current time we are still shipping to France and other European countries.
***** Shipping to FRANCE *****
Please Note: DPD's French shipping partner, Chronopost, will now only allow up to 28kg per shipping box.
******************************************************************************
Free Next Day Delivery applies to most parts of Mainland UK (parts of Scotland will still receive Free Delivery but as a 2 Day Service) - Each shipping box must contain at least ONE GREEN STICKERED ITEM to qualify for this service.
Certain areas of Scotland plus Northern Ireland and The Isle of Man will have a delivery charge of £4.90 added on at the checkout - see applicable delivery rates and times for your postcode zone below:
All orders received before 3pm (Mon-Fri) will be dispatched the same day.
We ship with DPD and on the morning of your delivery they will send a text or
email with your 1 hour delivery slot. Click here to watch DPD's delivery service
Zone [1] Mainland England, Wales and Scotland
FREE Next Working Day*
Scotland AB30-35, AB41-54, G83
FREE 2 Day Service*
Zone [2] Scotland AB36-38, AB55-56, FK17-21, HS1-9, all IV, KA27-28,
all KW, PA20-99, PH15-99, all ZE + Northern Ireland & Isle of Man
2 Day Service* £4.90 per order
SATURDAY DELIVERY
Only available as per zone [1] except Scotland 2 day areas
£4.99 per order
BELGIUM, FRANCE, GERMANY, IRELAND, LUXEMBOURG & NETHERLANDS
1 - 4 Day Service* £5.00 per item
*Delivery excludes Weekends and Bank Holidays.
[Please choose your zone at the checkout to avoid any shipping delay]
__________________________________________________________________________________
*Add-on* Items Explained
Green stickered Items are delivered to most parts of the UK at the price shown.
Red *Add-on* stickered items are priced to be shipped in a box along with a green stickered item so each box must contain at least one green stickered item to allow you to check-out.
Please note we can only ship up to 29kg per box (28kg to France) so for example, if you purchase a 20kg green stickered item there is space left in the box for 9kg of *Add-on* items. This is a way for you to save money when buying smaller items and still have them delivered the next working day!

If you wish to buy just a selection of our *Add-on* items we have a shipping box which enables this. Click here to view or add this to your basket.
(If you find you cannot Proceed To Checkout your 'Shopping Basket' may contain more *Add-on* items than allowed for your order)

The maximum weight allowed per box is 29kg including all *Add-on* items (28kg to France)

________________________________________________________________________________
Individual Items under 2kg
If you are interested in purchasing an individual 'Add-on' item that weighs less than 2kg but the cost of delivery (by having to purchase an Add-on Shipping Box) is putting you off then please give us a call.
We are happy to send out certain items out by Royal Mail for a £3 cost however please be aware this is using a 2nd Class Postal Service which is NOT tracked and your item will take a few days to arrive.
________________________________________________________________________________

Delivery tracking with a predicted 1 hour delivery time slot will be sent by email or by text if you enter a mobile number at the checkout. Click here to watch DPD's delivery service.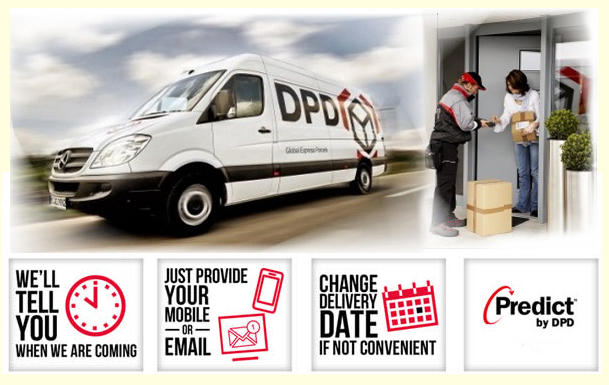 ADVERSE WEATHER DISRUPTIONS click here for a status in your area.
Want more flexibility with your delivery - have you heard about the DPD App?
You can download the DPD app from your phone or tablets app store (Google Play Store or Apple App Store).
Follow our simple guide below on how to use the app and specify delivery instructions >>>
Step 1: Set your default delivery preferences
You can setup your default delivery options in the DPD app. After that, the driver will follow your instructions each time they deliver. **Please note - these will be your default delivery preferences and apply to all DPD orders placed following your delivery UNLESS different preferences are changed for succeeding deliveries**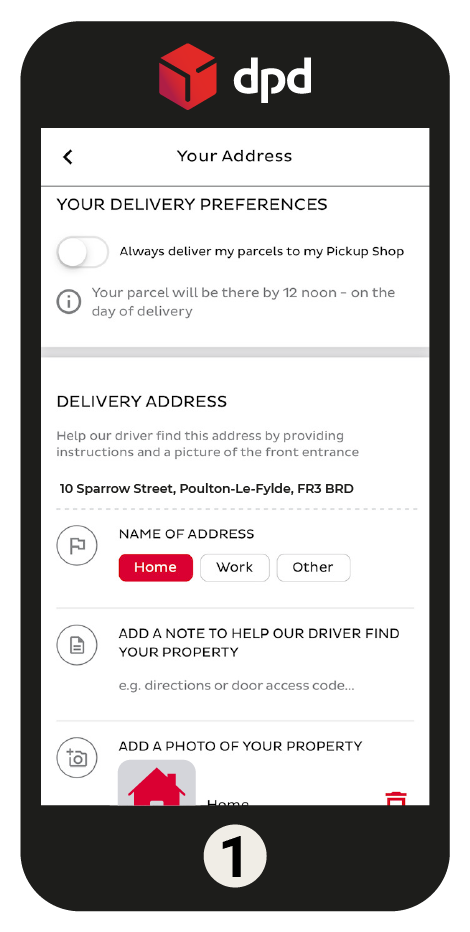 Step 2: Deliver to and avoid certain neighbours
You can select which neighbours you would prefer the driver try and leave your parcel with and which neighbours the driver should avoid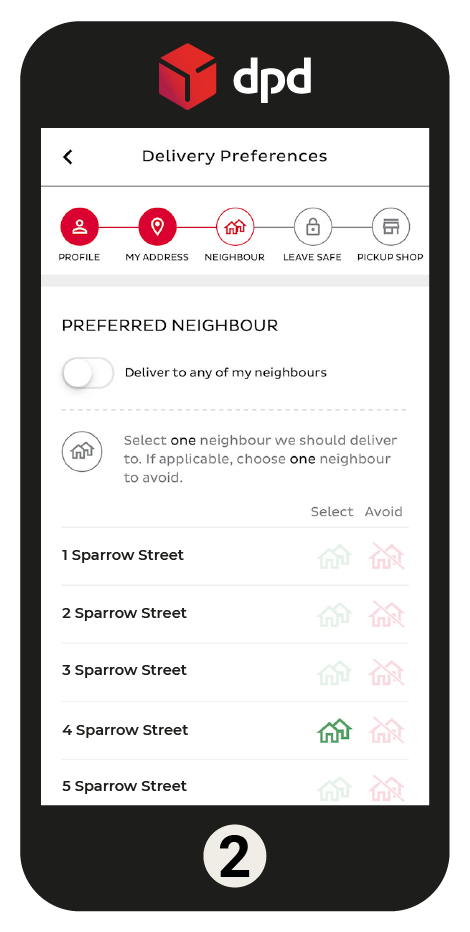 Step 3: Leave safe options (with photos)
Select a place where the driver can safely leave your parcel, plus take a photo of your safe place to help them find it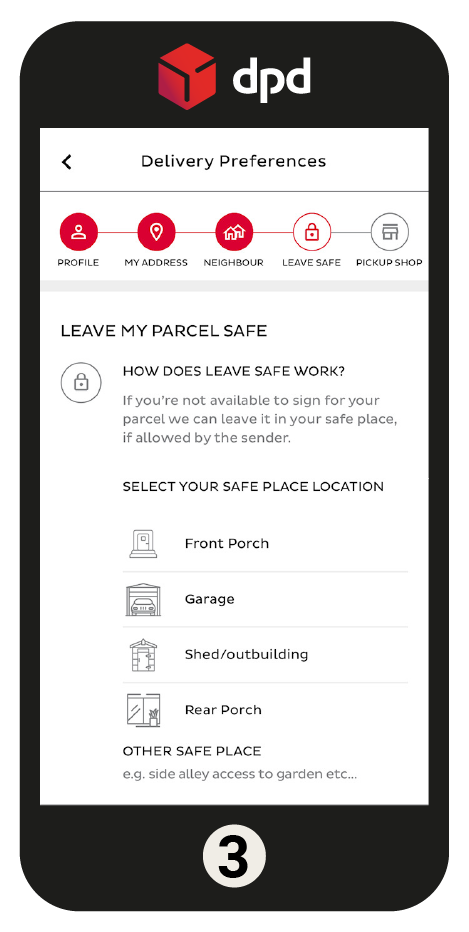 Step 4 - Redirect to a pickup shop
Redirect your parcel to a participating local shop where you can pick it up later. You'll find a list of local shops that participate in this scheme in the app. Only shops in the app are eligible.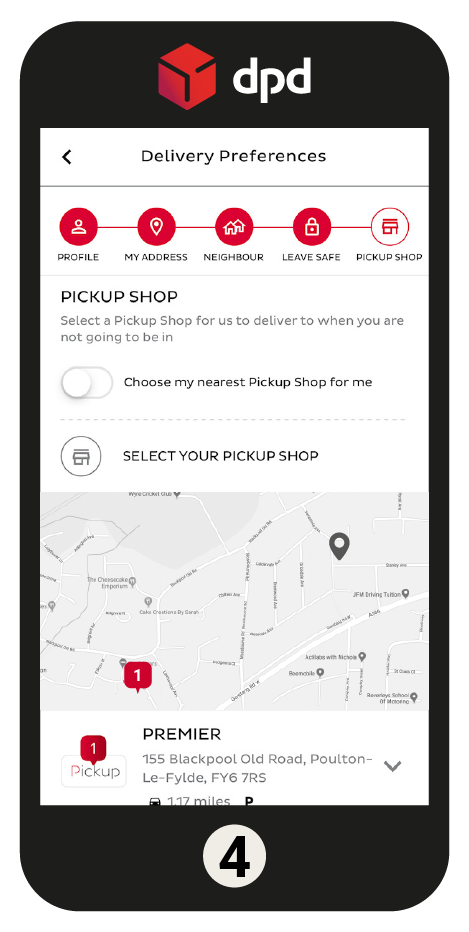 Step 5 - Setup instructions for each delivery attempt
Specify what the driver should do on the first, second and other delivery attempts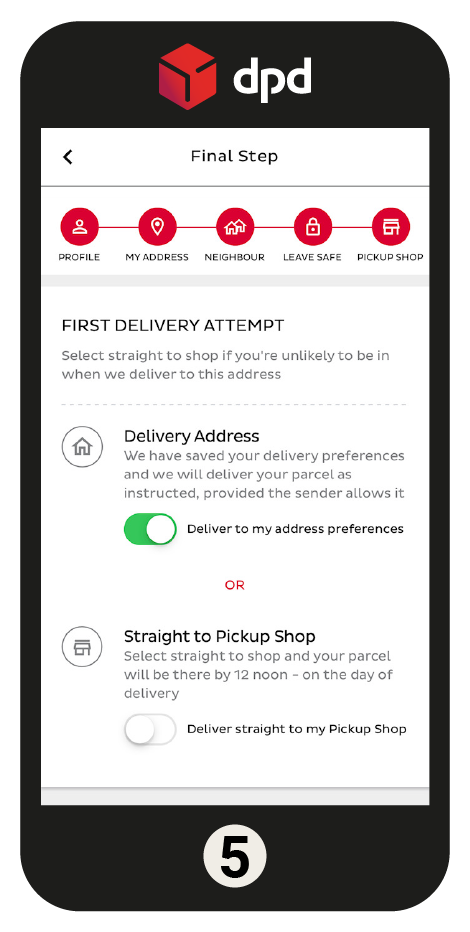 Step 6 - Review and confirm your options
Receive your allocated time slot and track where your parcel is live on the app.